Welcome to Medical Tenders, an exclusive portal where you can find business opportunities from the medical field. With a vast coverage and up to date information, medical tenders uploads notices from multilateral funding agencies, global authorities, state authorities, local authorities, hospitals.
Medical Tenders is not only confined to tenders but also covers crucial information, from future prospects to past market records. This information helps companies formulate their business strategies, do detailed market analysis and future forecasting.
Medical Tenders endeavors to help companies save time and money spent in finding lucrative business opportunities. With an elaborate list of services evolved during a long period of time and prolonged experience, Medical Tenders provides prompt solutions to the obstacles a company might face in acquiring the information.
Top Features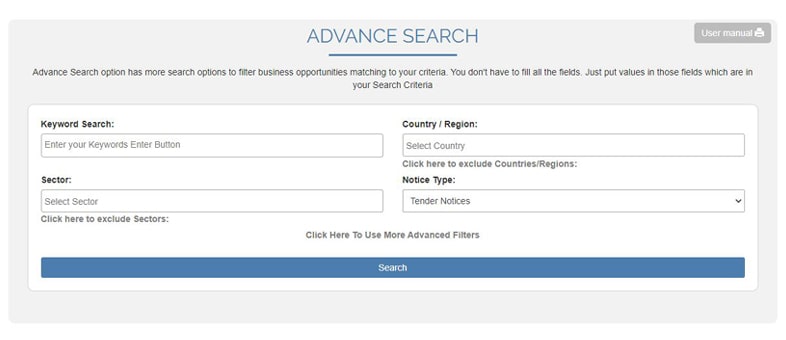 Advanced Search
Medical Tenders offers a very simple and advanced search option through which you can filter your search according to your keyword, sector, regions, notice type, cpv code, deadline, estimated cost. Medical Tenders also gives you an option to save your favourite searches and notices.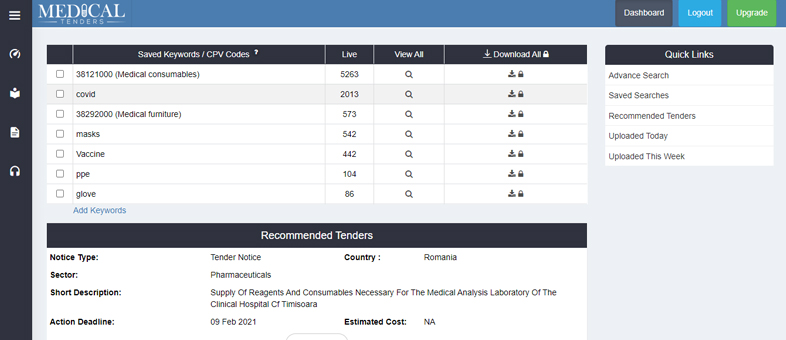 Dashboard
All registered members have access to the dashboard. The dashboard shall offer you a tailored look and you shall see recommended notices on the dashboard without having to search every time you log in. We believe that you should act on the notices rather than spend time in searching. You can also save favourite notices, save searches, email important notices to colleagues.
Email alerts
All new notices as per your keywords, target regions and company profile shall be sent to you on all working days. You shall be intimated of all new business opportunities through mail everyday. Our alerts are tailored, specific and only relevant information will be sent.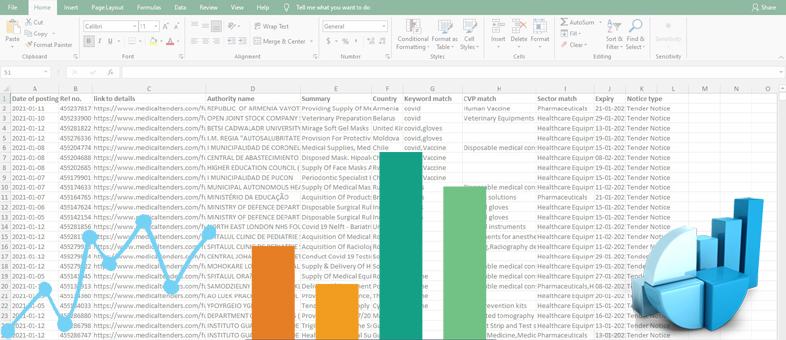 Market reports
Market Reports are sent for products profile with keywords and CPV match. It helps analyse the past trends and growth potential for each product and helps you focus your energy on specific target markets.

Free To View Featured Tender
Notice Type:
Tender Notice
Country:
India
Authority:
KARNATAKA ANTIBIOTICS & PHARMACEUTICALS LIMITED BENGALURU
Description:
TECHNOLOGY TRANSFER FOR CEPHALOSPORIN-C (INTERMEDIATE) & 7-AMINOCEPHALOSPORANIC ACID (7-ACA) BULK DRUG PROJECT CAPACITY/ANNUM:1000 METRIC TONNE/ANNUM
Action Deadline:
02 Jun 2023 24 Aug 2023
GT Ref. no.:
GTF027369
Summary:
Global: UNITAID Scale Up Access to Treatment for HIV/Aids Project
Sector:
Healthcare and Medicine
Country:
United Kingdom
Notice Type:
Project Information
Deadline:
01 Mar 2026
Summary:
Global: Additional DFID funding for international finance facility for immunisation (IFFIM) for health systems strengthening (HSS) Project
Sector:
Healthcare and Medicine
Country:
United Kingdom
Notice Type:
Project Information
Deadline:
30 Nov 2030
Summary:
Stock assessment of demersal fish in the ICES area generally relies on Virtual Population Analysis (VPA). The main data sets in this kind of analysis are derived from catch statistics and samples from
Sector:
Laboratory Equipment and Services
Country:
France
Notice Type:
Project Information
Deadline:
30 Nov 2032
Summary:
Our main objective is to raise public awareness about marine aquaculture: its products, its effects on health and environment, and its role in a future, sustainable economy. The title suggests the per
Sector:
Laboratory Equipment and Services
Country:
Norway
Notice Type:
Project Information
Deadline:
30 Jun 2038
Summary:
The main objective of the present proposal is to prepare a Combined R&D and Demonstration Project for the development of a new mesh gauge. This new mesh gauge should allow more reliable and objective
Sector:
Laboratory Equipment and Services
Country:
Belgium
Notice Type:
Project Information
Deadline:
31 Jan 2026
Summary:
The intended project will allow obtaining fish with a longer preservation of freshness. The research will focus on the utilisation of micronutrients with antioxidative action which will have to be tes
Sector:
Laboratory Equipment and Services
Country:
Spain
Notice Type:
Project Information
Deadline:
14 May 2030
Summary:
Building on the strong synergy resulting from the complementary skills and interests of the partners, the main objectives of this proposal are:
Sector:
Laboratory Equipment and Services
Country:
Spain
Notice Type:
Project Information
Deadline:
14 May 2030
Summary:
Despite many advances in modern medicine, pharmaceuticals and biotech companies are still looking for an efficient way of drug delivery enabling a better treatment without side effects. Indeed there i
Sector:
Laboratory Equipment and Services
Country:
Israel
Notice Type:
Project Information
Deadline:
02 May 2031
Summary:
The industrial problem to overcome is to reduce the oil degeneration rate and the oil consumption in industrial (pre-) frying processes, to improve the quality of the process and the resulting (pre-)
Sector:
Laboratory Equipment and Services
Country:
Netherlands
Notice Type:
Project Information
Deadline:
05 Jul 2030
Summary:
The scientific and technical objectives of this research proposal, reflect the urgent needs of the shellfish industry to address problems caused by toxic algae. The research will include both laborato
Sector:
Laboratory Equipment and Services
Country:
United Kingdom
Notice Type:
Project Information
Deadline:
25 Nov 2029